There are not many ukulele-makers actually making custom instruments. There are a number of talented luthiers making excellent ukuleles, but most companies carry a standard line without many options for customization.
For 15 years now Ko'olau Guitar and Ukulele has been building some of the finest quality ukes money can buy, allowing the customer to pick from many wood and decorative variations. The company was started by John Kitakis, who moved from Hawaii to the mainland about thirty years ago and then started the company when he moved back 15 years ago. For many years he worked for Martin,Taylor, Gibson, Guild and other guitar manufacturers doing the major warranty repairs in western North Carolina. In between repairs he would custom build acoustic guitars and mandolins. John's step son Noa went back and forth between North Carolina and Hawaii throughout his childhood.  While still in High School, Noa decided to sacrifice the ocean life in Hawaii he loved so much, in order to pursue stringed instrument making. This included becoming certified by all of the major guitar makers for warranty repair.


Much of Noa's building knowledge simply came from growing up at Kitakis stringed instrument repair. He was changing tuners and strings at 10 years old.  As a teenager, he was already doing warrantied Martin neck-resets. Later, Noa attended schooling in Michigan with Dan Erliwine, and a few years after in California with Charles Fox. He had a passion for building. I remember him reading Guitar Maker magazine late at night and thinking up new ideas for jigs in his head.
Noa has studied and personally experimented with different tools, techniques, and materials. At the foundation of all great artists and craftsman is this pursuit of mastery. I have witnessed it first hand consume him and now am able to witness the results. It reminds me that our abilities eventually reflect our fascinations and devotions. His engagement in his art and practice are why people like Aaron, think of him as the best guitar and ukulele builder. This video shows Corey playing one of his guitars. As a side note, a few years back Noa actually Gave me this guitar! I was STOKED!
In 1996 John and Noa moved back to Hawaii and started Ko'olau Guitar and Ukulele. By the time they decided to start their own line they had already repaired thousands of high end stringed instruments. They had already refinished and custom built for many years.  You can have faith that they know what works, and what doesn't. That magical balance between structural stability and musical vibration had been tested and researched. Within a few years Ko'olau grew into a popular higher end ukulele brand. Early on, performers like Lyle Ritz, Led Kaapana, Roy Sakuma, and Trecy Terada bought Koolau's and were exposing others to the quality coming from the foothills of the Ko'olau mountains.
Before Lyle had played a Ko'olau, he said he would never play anything but his 1950's Martin tenor. Well, he ended up buying a few Ko'olau tenor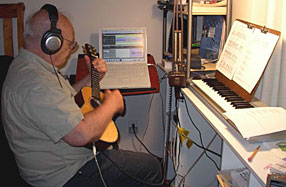 rs and plays and records with them exclusively! Have you heard Lyle Ritz?? He released an amazing Jazz ukulele album in the 50's,then he was a studio L.A. Bass player for years until he retired and returned to the ukulele. Here is a sound clip with him playing his Ko'olau – Find more Lyle Ritz at iTunes! or check this article on Lyle found on Apples website. apple.com/pro/profiles/Lyle Ritz
Fast forward another 10 years and John starts Pono Ukulele. The idea was to bring the design and quality of a Ko'olau, but affordable to more people. As John is spending time in Asia and working on the new line and a new factory, Noa takes over production at Ko'olau. Kilin Reece, a former "finisher" at Santa Cruz guitar company, takes over the finishing department. (which I was handling before I started Hawaii Music Supply) 🙂
So a few years back, Noa trains a crew and starts a somewhat affordable side of Ko'olau with the 1 series and the K series. But, with more custom orders than he could handle, and a consistent distraction with teaching workers and quality controlling these production models,  Ko'olau decided to scale back to their original custom shop size. Noa doing all the building and setup, and Kilin doing the finishing. Just recently Noa took on a young and talented apprentice that was already building classical guitars. Ryan has built some amazing high end instruments and will be a perfect match to maintain the precision Noa expects. (and is required at this price range!)
So that's a bit of history for you! Ha,I didn't even have to interview anyone for this little biography!
Now let's look and discuss the options available to you.
SOME OF THE MORE POPULAR OPTIONS:
Woods: Koa, Mahogany, Rosewood, Myrtle wood, Kulawood, Macassar Ebony, or 'Ulawood.
Top Woods: Spruce, Cedar, or Sequoia Redwood, Mahogany, or Koa
Top and Back Binding: Ebony, Rosewood, Koa, Maple, Blood Wood-choice of purfling

Headstock- Regular or Slotted at an upcharge – choice of wood

Finish – satin, upcharges -semi-gloss, gloss, varnish

Tuners:Goth design or waverly at an upcharge

Case: Ko'olau deluxe hardshell case included,  Ameritage/Ko'olau Climate Control available
Other options include cutaway on tenor or baritone models and amplification options.And of course, an infinite amount of inlay possibilities. A Ko'olau is an heirloom instrument that can enrich your life.  It will outlast you and give joy to generations to come.  If you work hard and love playing ukulele, and can "swing it" in the finances. Treat yourself to a custom ukulele from Ko'olau.
For the full performances from Abe go to our website performances section.
Feel free to comment, request, and of course, subscribe. Aloha!