This is what we do every day, help people understand the different options available in the ukulele market. People come into the store that know nothing about ukulele we do our best to educate them and point them in the right direction. Emails and calls are often covering the various specifications of instruments and how they affect the sound and playing experience.
Sizes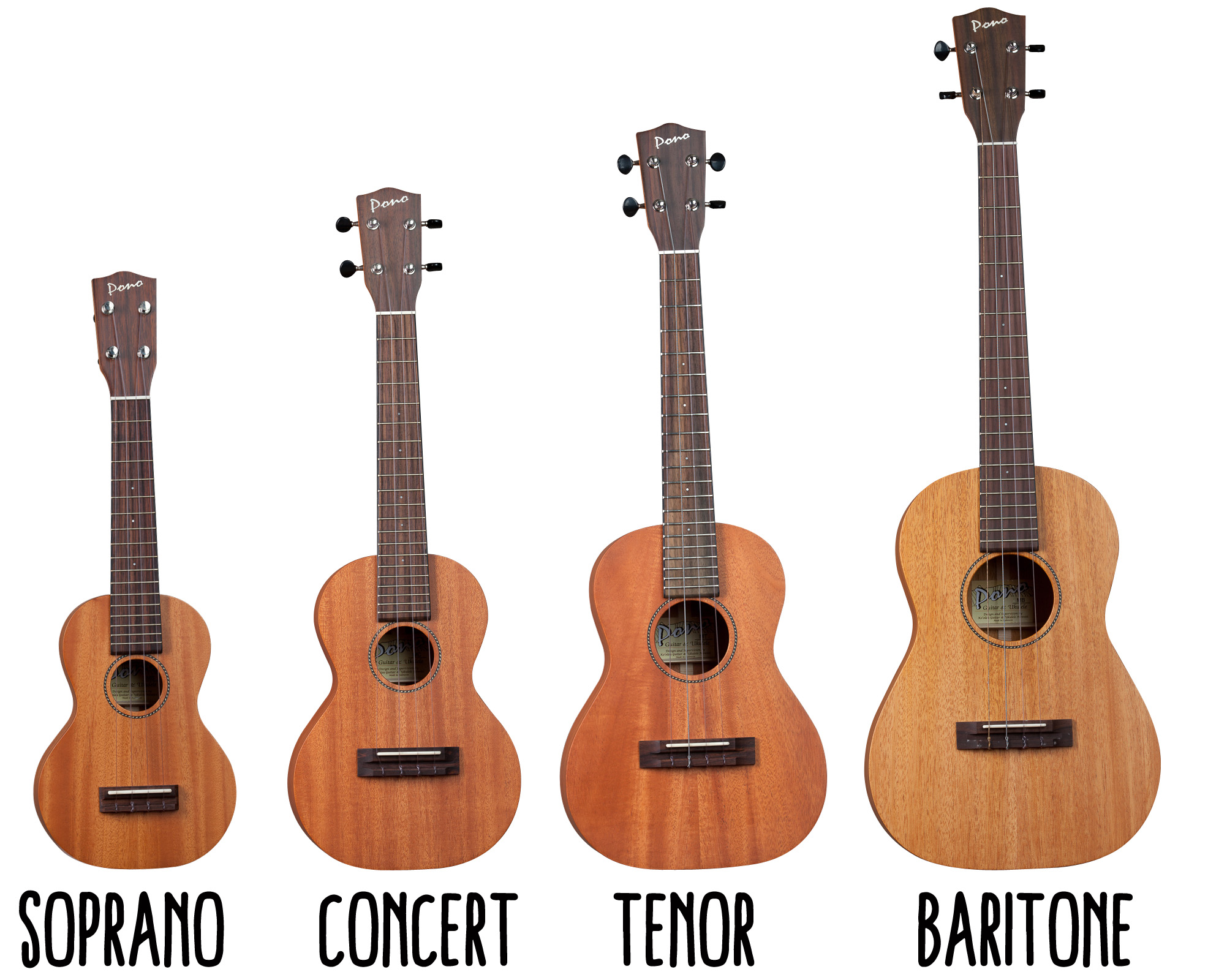 Ukuleles normally come in 4 sizes. They are , Soprano; the smallest one also referred to as the standard size. This one is little and fun, and many times very big sounding. For many though the soprano is cramping for medium-larger size hands, especially as you get to more advanced chords. Also, it has the shortest scale length, usually under 14 inches. This allows the strings to be pressed down easily, but they also can be easily bent out of tune if you press too hard, a common issue with beginners and something to consider when choosing your first one. For children under the age of about 10, the soprano is a good choice because of the comfort of the size and low string tension. For adults, it is not the most common choice, but it can be a fun size to have in your collection!
The Concert is the medium size with its' own sound and feel. It is a popular size, and the second most requested to the next size up – Tenor; the size used most often by professionals and converted guitar players. It gives the largest range while still being the G C E A sound associated with the ukulele. It is also common on the Tenor to put a low G rather than high G string on the bottom string. This gives a deeper, and usually richer tone with more sustain and depth.
Of course, the deepest and warmest sounding one is the Baritone; the largest of the bunch and tuned a 4th lower. Because it is tuned a 4th lower to D G B E just like the high 4 on a guitar, it is considered a bit of its own instrument, or perhaps not the one to start on if you want an "ukulele sound".
This is an old video but Aaron goes over the main four different sizes of ukulele.
"Super" or longneck models are usually the scale length of the next size up. So a super soprano will have a soprano body with a concert neck, or a concert longneck will have a concert body and a tenor neck.
Here is video of Kalei playing each size from Kamaka back to back.
---
Brands
Once you decide on size you can start looking at brands. As Zach was saying in the podcast you can usually navigate first based on your budget. And at our online store you can search by price range along with the search by brand.
We have a brand overview section here under the Featured Builders tab at the header. That's one way to learn about some of the main builders. I'll put links in the overview below.
The Hawaiian "K Brands" are the three main factories in Hawaii, Kamaka, KoAloha, and Kanile'a. There are many other good builders on the island but not at the level of production. These brands all give a unique tone we enjoy. One of our video comparisons here gives a back to back of the 3 K tenors. – LINK Through the various posts here hopefully you'll be able to compare many different options with K brands. These brands are the best selling Hawaiians in the store by far.
Most of the other Hawaiian brands we carry are more of a custom level. Imua has a few builders. Ko'olau is Noa and Ryan. Chuck Moore, Charlie Fukuba, Aaron Oya and quite a few others here on the islands go at it solo and thus, are harder to find available. But we do get them and you can usually find them in our custom section at The Ukulele Site HERE.
Over on the mainland there is also a slew of talented ukulele custom builders including John Kinnard, Pepe Romero, Jake Maclay, Beau Hannam, Zac Stiemle, Jerry Hoffman, and a few small factories like Kala Elite and Larrivee.
Most of the options I'm talking about though are relatively expensive to what is also available. Imports like Pono and Kala are making fantastic instruments and some are quite affordable.
Through the years we've decided to focus on the brands that are doing the best work and offering the best value. We then further improve their quality with our famous final setup work.
Woods
Woods are another aspect you can consider. Koa is the most popular wood for many local builders, and people love it for good reason. It's beautiful and has a great sound. But there are many other options that players gotten attached to. The most common woods were featured in an older article here- which-tonewoods-are-best-for-ukulele?.
Here's a few other related reviews you might find useful when considering woods.
Comparing Tonewoods with Kalei Gamiao
Mahogany, Acacia, and Mango back 2 back
Of course Blackbird offers an entirely different option from any wood at all. Check them out here- Blackbird Overview
Strings
As Joel talks about in the podcast. There's a clear difference in sound between various string materials and gauges. And the individual instruments respond differently as well. It's something you'll want to experiment with.
Here's a previous article on strings to learn more about the different strings.
Here is a few comparison video reviews-
12 Tenor String Sets on Kamaka HF-3
Southcoast String Set HML-RW
Ko'olau makes a few good nylon sets and a now a good fluorocarbon set. Nylon and fluorocarbon sound quite a bit different in my opinion. It's something that varies also in preference. We did a video podcast showing them HERE. And you can see the listing for the new Ko'olau Aho Strings HERE.
This post might also be of interest to you- Can a Baritone Be Tuned Like Tenor?
Many of the articles here and at our store discuss these things but I decided to do a podcast, and our podcasts are a bit of a ramble, so I made a post here as well to go over most of the main options in one place. Uke options talk starts at 12 minutes. A lot of these things are just our opinions, so for what it worth, hope this helps.
Other Options-
Slotted Headstock
Pros
Looks Cool
Some people think it helps the projection
Cons
Takes way more time and care when restringing
Usually costs more
Radius Fretboard
Pros
Easier on your chording hand, especially with barre chords
Cons
Some people are used to or more comfortable with a flat fretboard
Usually costs more
Cutaway
Pros
Easier access to the highest frets
Cons
Some people think it takes a little away from the resonance
Usually costs more
Pickups
The pickups we like best and install are listed and reviewed
HERE
.
Also we discussed these on our first podcast you can hear HERE.

Tuners
There are two main types of tuners used on ukulele, friction and geared. Geared tuners have posts that is locked into a gear system that creates a stable hold and more fine tuning. Friction tuners are held in place by the tension of a screw that has to be tight enough to hold the string tension and still loose enough to turn it. Cheap friction tuners can be really hard to work but a decent friction tuner can be perfectly fine. One of the reasons people often like friction tuners is that they have a classic look with the rear facing buttons. Now though, Gotoh has created a tuner with the look of the friction tuner, but with a 4:1 gear ratio. We really love these tuners and can retrofit any uke that has friction tuners with the Gotoh's. See the listing for these
HERE
.
Type of bridge
There is a few different types of bridges. I don't think the bridge type would really factor much as to how you can judge an uke, but it is different when you go to restring them. Here is a link to a review and video where Joel goes over restringing with each bridge and headstock type.
Ukulele Restring Tutorial 4 Bridges 2 headstocks
Suggestions for beginners
When you shop with us you can get a really affordable uke, and after our setup it will feel like a custom. Some of my favorites under 200 are from Kala's spruce top mahogany series. The
SSLNG
,
SCG
, and
STG
are fantastic instruments under 200.
The mid range market offers excellent choices in the Pono, Romero Creations, KoAloha Opio, and Cordoba 30 series. These are excellent all solid wood, excellent instruments starting at the 300 dollar range and mostly less than a thousand. Beyond that, get what you can. If cost is less of an issue, well then you have a lot of great options. But for beginners not really sure of their interest level, the ones I just mentioned are good choices and there are others.
I'll add to this post as I can. Let me know what I'm missing in the comments. So many various specs on different ukes. But it comes down to this; A good uke is a good uke. If it sounds good, and plays well, it could be any size, wood, brand, etc. And they are. But what is right for you is a journey only you can navigate. Give your thoughts below. Mahalo and Aloha!